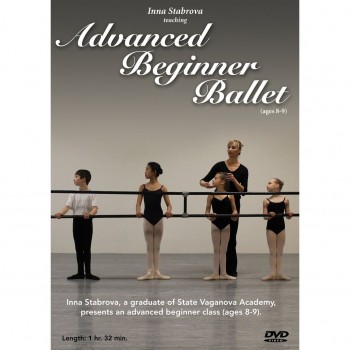 Advanced Beginner Ballet Taught By Inna Stabrova a Graduate From State Vaganova Ballet Academy (2013)
Ohio Conservatory of Ballet
$34.50

Inna Stabrova is a graduate from State Vaganova Ballet Academy, former principal dancer with Eifman Ballet, St. Petersburg, Russia. She has been teaching in the USA for 22 years.This DVD presents a class syllabus is choreographed for children ages 8-9, who attend only two classes per week. Children will learn the discipline of movements, muscle coordination, musicality, and control. The barre, floor, jumps and center work will prepare them for level 1 ballet. Also available:" Vaganova Level 3 Complete Syllabus DVD", Vaganova Level 4 Classical Ballet Sample Class & Complete Syllabus","Character Dance Class Syllabus for Level 1 (With Explanation) "Character Dance Class Level 3 - DVD & Music CD ", Beginning Ballet - made by Inna Stabrova , "Dmitriy Tuboltsev's Ballet Class Music Volume 1" 65 Unrepeated Tracks," Music for Character Dance Class Level 1" CD: Samples available on You Tube.
Review This Product
Did you purchase this product? Simply fill out the form below with required fields [*], verification code and send. Your review will be posted when approved by site administrator. Review characters posted will be limited to 600.